Recently, Surrogate Court Candidate, Rosemarie Montalbano was the guest on VOICES of East New York, hosted by Nikki Lucas.  Montalbano spoke to community members in real time, explaining the functions of the Surrogate Court. Watch the full interview below.
Watch past episodes of VOICES of East New York with Nikki Lucas. See Montalbano's bio below.
ROSEMARIE MONTALBANO BIO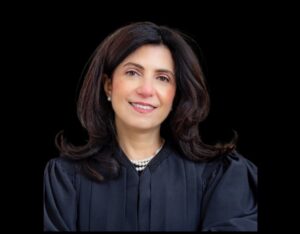 Justice Rosemarie Montalbano, a Brooklynite, was born, raised and resides in Bushwick, Brooklyn. She married Craig Montalbano in 1991 and has two adult children Olivia, a Registered Nurse, in the Brooklyn Hospital Judge Montalbano was born in, and Craig Wm, a computer technician. A graduate of St. John's University and Western New England University School of Law. She became an Assistant District Attorney, then a Court Attorney to two Civil Court Judges, and a Principal Law Clerk to a Supreme Court Justice, Criminal Term.
In November 2014, she was elected to the Civil Court, Kings County. She began her judicial career in January 2015 in the Criminal Court, Kings County, where she presided over a Domestic Violence Part including Domestic Violence, Youth Domestic Violence, and Elder Abuse. In March 2018, she went to the Civil Court, Kings County, a Court known as the People's Court. She presided over various civil matters, including jury and bench trials and many cases involving unrepresented litigants. She was elected a Justice of the Supreme Court in November 2019. As a Justice of the Supreme Court, she presides over a trial part and one of the City motion parts, including matters involving real estate transactions, contracts, premises liability, labor law, motor vehicle accidents, and general negligence.
Justice Montalbano has dedicated her entire career, almost 30 years, to public service. She recognizes the litigants' needs and looks forward to ensuring ACCESS TO JUSTICE to all in the Surrogate Court.